Week 5 - Term 3, 2022
Tena Koutou Katoa
The weather this term has been very wet and miserable and along with the continuation of some cases of covid along with all sorts of other winter illnesses, it has been a difficult term. Thank you to families who have supported our school by keeping their children home when they are unwell. Thank you for also being very understanding when we have had days where we have had so many teachers who are unwell and unable to be at school, and there have been no relieving teachers available, some parents have kept their child at home to help us manage the situation we are faced with. We also completely understand when parents are unable to keep their children at home. We do everything we can to cover our classes but sometimes, at the moment, we just can't.
Our students and staff have been very focused on teaching and learning across our school.
Our Inquiry focus for this term has been on science - "May the force be with you". Students will be learning about the big idea behind this: Force and motion are fundamental to all matter in the universe. A force is anything that can push or pull on an object. Forces influence objects that are at rest or that are already in motion. Isaac Newton's three laws of motion involve inertia, mass, velocity, and momentum.
We look forward to welcoming our school community to our Science Night on 7 September where students will show you what they have been learning during our inquiry.
Attendance and Lateness
Lateness of Students Arriving at School
Students need to be at school by 8:30 am each morning. This gives them time to meet up with their friends, get organised for the day and be ready to engage in their learning. A number of students are wandering in after 8:45 am. This is disruptive to their learning and the learning of other students in the class. Punctuality is a very important habit to foster.
We expect Maeroa students to attend school every day. If a child can not attend school then the parent/caregiver needs to contact our school to advise that their child will not be at school and the reason why. We send text messages to our families/caregivers when their child has not arrived at school and we have not been told why they are not here. It is essential that we have your correct phone number and email address so we can contact you.
We run a comprehensive intervention programme in literacy and numeracy at our school AL@M - this programme supports your child if there are gaps in their learning. If your child does not attend school regularly their learning will be inconsistent, we want our students to succeed in their learning, attending school everyday makes a difference. We understand that there has been an issue with the covid pandemic but please, if your child is well, send them to school, they need to be here.
Help your child to attend school everyday:
talk to your children about why it is important to go to school every day – ask them what they want to be in the future. Their education is the key to doing well in life
be positive about school

prepare your children the night before school - make sure they have done their homework
have a good morning routine that gets them to school on time, relaxed and with everything they need
don't let them have the day off just because they would rather be at home
keep absences due to sickness to times when your child is actually sick - don't keep them at home when you know that they are just nervous about school – talk to the school who can help your child overcome this
know about your child's school life - ask questions, listen to your child. This will make it easier to pick up on any issues they might be having
keep family holidays outside of term-time, as every day at school is an opportunity to build skills, and repetition is critical for learning – especially for primary school children
don't overload them – school may be exhausting for your child so make sure they have some downtime after school to relax and have a break.
Maeroa's Got Talent
These are the rules for the finals to enable contestants to prepare efficiently.
Items should be approximately 2 minutes and no longer than 3 minutes long.

Items need to be performed live.

No songs with inappropriate words/themes, include music you are dancing to.

Backing music must be provided to Mr Taylor on a USB stick or link. These are the only acceptable formats.

If you are singing using a backing track, ensure there are no other vocals on it (you can't sing along with the original artist), and it is cut to the right length - Backing tracks can be found on youtube or at www.karaoke-version.com or www.ameritz.co.uk

Please let the judges know if you have composed/choreographed/written your item.
Timeline
Monday 22 August entries open - pick up an entry form from the office

Friday 2 September at 3 pm, entries closed

Thursday 8th September - heats allocated. All entries will be given their heat time.

Monday 12th September - the week of heats to be held at sports break - no audience, only judges

Monday 19th September - the week of the semi-finals, heats to be held at sports break with an audience.

Tuesday 27th September - finalist announced

Friday 30th September - Finals performed, and winners announced
You will be judged on
technical skill

presentation

originality

Quality

Audience response
Prizes
Overall winner - $75 Te Awa Base Voucher

2nd place overall winner - $50 Te Awa Base Voucher

3rd place overall winner - $25 Te Awa Base Voucher
All winners are final, and the judge's decisions on the day stand.
Des Hunt - Author visits Maeroa
The New Zealand author Des Hunt came to talk to us this term. He used science experiments as metaphors to engage and describe how an effective novel should be structured. This caught our attention and was both entertaining and informative. We learned about famous authors who had been rejected, like Theodore Geisel (also known as Dr Suess) and J.K Rowling. This helped us understand the importance of trying multiple times and not giving up. He also told us the story of his first fiction book, 'The Last Tuatara', which every publisher in New Zealand rejected, and when he put it to market research, only 4/20 of finished the book. This showed us that sometimes our work does need revision. The Last Tuatara was eventually published after some careful revision. His chemistry experiments were amazing, one of which took an ordinary fire lighter and turned it into a cannon! His other experiment was a giant ramp representing a book, the marble couldn't go up the ramp until he added more marbles and magnets to represent the hook, climax, and resolution. In summary, the Des Hunt talk was an incredible opportunity to better our writing skills and gain inspiration for our writing.
Eva, Room 24
Koru Badges
A big congratulation to the following students who have earned their Koru Badges over the last two weeks:
Bronze Badge: Charlie Miru, Korban Moore, James Fredrickson, Leila Stryker, Libby Hyde.
Silver Badge: Max Tottie, Lily-Anna Vann
Great things come from hard work and perseverance. No Excuses.
Kobe Bryant
Maeroa Gully Restoration
Gully Restoration Project
We are very grateful to a small team of students, teachers and whanau who have been working over the winter months in our school gully either on a Tuesday or Thursday after school or at the Saturday Working Bees on the last Saturday of the month. They have weeded, added weed matting, planted lots of trees, created rat traps, placed nearly two truck loads of mulch around plants, and repotted lots of the plants in our nursery.
The gully is big, and we still have plenty of areas to clear and trees to plant. We are hoping more students and whanau will be able to join our restoration project. There is always a range of jobs, so there is something for all ages and fitness levels to do! Students receive sign-offs on their Enviro card, so it's a fantastic way to earn the Enviro Koru flash. Students can come to the Tuesday and Thursday after-school workshops from 3-4.30 pm as often as they wish. These still go ahead when it's raining as we do potting tasks under cover. Old clothes and shoes/gumboots are needed as it is often wet and muddy.
If you can help or are interested in finding out more, please contact Julie Yeoman at jyeoman@maeroa.school.nz
Inter Intermediate Cross Country 2022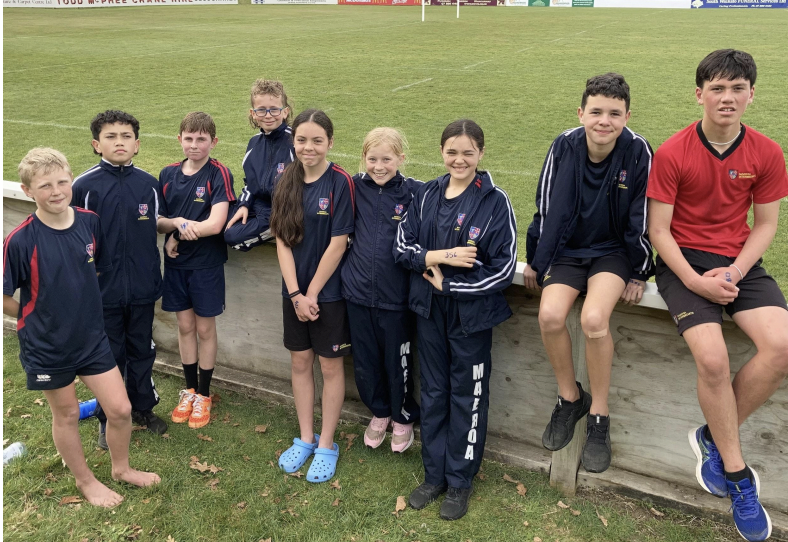 Inter-Intermediate Cross Country
On Tuesday, 16th of August, a group of Maeroa students went to Tokoroa to compete in the Inter-Intermediate Cross country.
We had a pleasant trip in the van arriving at Tokoroa just after 10 am. We then walked around the course so everyone knew where they had to go. It was a cloudy day, not too hot for running, and the course was about 3 ½ Kms long, mostly around the large sports ground.
At 11 am, there was a briefing for all competitors, and finally, at 11:15 am, the Year 7 girls lined up for the first race. We had two students competing, Ruby McCluskie and Eva O'Connor.
Just after they had disappeared over the fields, the year 7 boys were called up. Shia Harnett, Ethan Hobson and Carter Webster started their warm-ups and headed to the starting line.
Soon they set off, and then it was the Year eight girls with Isabella Hunter representing Maeroa, followed by the Year 8 boys; Liam Dehar-Elliott, Liam Adams and Preston Wade.
It was a long hard course, and our runners did extremely well keeping up with the pace and finishing up in the top half of the field. It was a great day out, which everyone found challenging but enjoyable. After some lunch, we all piled into the van for the long ride home.
Inter Intermediate Netball 2022
On Tuesday 23rd August from around the Waikato turned up for a wonderful day of netball. The games were evenly matched, with several countbacks happening to decide who would make the finals. The competition is always so well contested with teams from Cambridge, Te Awamutu, Tokoroa, Matamata, Berkley, Peachgrove, Melville, Rototuna, and Fairfield. The 8A team played outstanding all day to go through and play four games to make the finals unbeaten. They met Rototuna in the final, and although they made a slow start to be down by 2, they played as a team and eventually won the game to be the 8A Champions for 2022. The 7A also had an impressive day, going through unbeaten to make the finals. They had to play 5 games to reach the finals as more teams in their pool met Te Awamutu, who they had just beaten in the pool games. They played their hearts out, and the team showed skill and resilience but were beaten in the end to be runner-up for the 7A Championship. The coaches were so proud of our girls; they demonstrated all the values we uphold and represented the school with great pride.
AIMS Games
Next week Maeroa will be represented at the AIMS games in Tauranga by our boy's basketball team, 3 x 3 mixed basketball team, netball and BMX. We wish all the competitors well next week and know that the preparation and support offered by their families and coaches will serve them well. We thank the volunteers that support them especially next week and look forward to following their success.